...from Vienna with the
Wiener Philharmoniker
Musical New Year's greetings
in the spirit of
HOPE
FRIENDSHIP
PEACE
It has long been a Philharmonic tradition at the New Year
to present a program consisting of the lively and at the same time nostalgic music
from the vast repertoire of the Johann Strauss family and its contemporaries.
These concerts not only delight the audiences in the Musikverein in Vienna,
but also enjoy great international popularity through the world wide television broadcast,
which now reaches over 80 countries.
Originating during a dark period of Austria's history,
these concerts were initially conceived for a local audience
as a reminder of better times and a source of hope for the future.
Today millions of people throughout the world are similarly encouraged by the light-hearted
yet subtly profound character of this music, and draw joy and optimism for the New Year ahead.
It is the desire of the Philharmonic
not only to provide musically definitive interpretations of the masterworks of this genre,
but at the same time, as musical ambassadors of Austria,
to send people all over the world a New Year's greeting in the spirit of
HOPE, FRIENDSHIP and PEACE.
*
*
*
NEW YEAR'S CONCERT
with Mariss Jansons,
the Vienna Boy's Choir
and music from the Strauss family
Johann Strauss I (Father) 1804-1849
Johann Strauss II (Son) 1825-1899
*
Johann Strauss and the Vienna Pilharmonic:
The very first enco

unter between Johann Strauss, Jr.,
and the musicians of the Vienna Philharmonic was a premiere.
Strauss had composed the waltz "Wiener Blut", op. 354, for the Vienna Opera Ball,
which was held in the main hall of the Musikverein on April 22, 1873,
and he personally conducted its first performance at this event as was his custom,with violin in hand.
Their next encounter took place on Nov. 4, 1873,
when Strauss performed works by his father and Josef Lanner,
as well as his own "Blue Danube" Waltz as part of a gala concert
presented by the Chinese World Exposition committee.
Wiener Musikverein in late 19th century
A "Soirée" in the Court Opera House then took place on December 11, 1897,
with Strauss conducting the orchestra in the premiere of his "Reminiscences of Old and New Vienna",
a potpourri based upon themes of his own works,
as well as those of his father, for which the manuscript has since been lost.
On October 14, 1894, the Philharmonic took part in a festival concert marking Strauss' 50th anniversary
in the music business, and the master expressed his gratitude
with the presentation of a commemorative medal and a telegram in which he stated:
"In the meanwhile I send my warmest thanks to the great musicians of the famous Philharmonic for your masterful performance and also for the demonstration of your goodwill which brought me much pleasure – Johann Strauss" .
read more
here
*
*
*
*
Mariss Ivars Georgs Jansons
(born 14 January 1943)
is a Latvian conductor, the son of conductor Arvīds Jansons.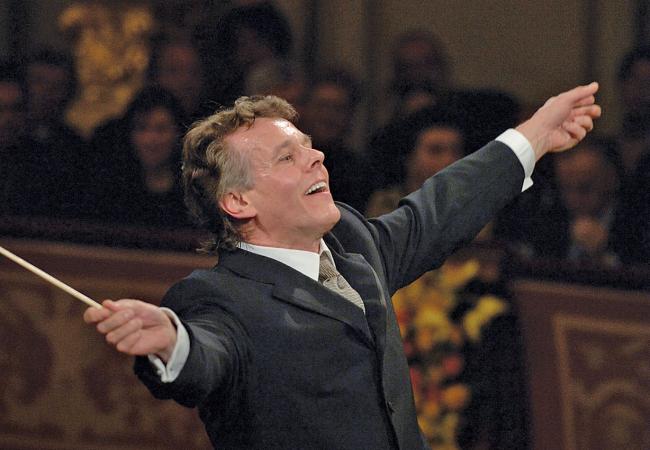 His mother, the singer Iraida Jansons, who was Jewish, gave birth to him in hiding in Riga, Latvia, after her father and brother were killed in the Riga Ghetto. As a child, he first studied violin with his father.
In 1946, his father won second prize in a national competition and was chosen by Yevgeny Mravinsky to be his assistant at the Leningrad Philharmonic. When his family joined him in 1956, young Jansons entered the Leningrad Conservatory, where he studied piano and conducting, although his father urged him to continue playing violin. In 1969 he continued his training in Vienna with Hans Swarowsky and in Salzburg with Herbert von Karajan. Karajan had invited Jansons to be his assistant with the Berlin Philharmonic, but the Soviet authorities blocked Jansons from ever hearing about the offer.
read all
here
Mariss Jansons is recognized as one of the most distinguished musicians of his generation,
and is considered one of the leading conductors to emerge from the former Soviet Union.
He has become known to audiences worldwide through his acclaimed recordings,
concert performances and touring activities, as well as numerous radio and television appearances.
He has guest conducted many of the world's major orchestras.
In North America, he has appeared with the Cleveland Orchestra,
Philadelphia Orchestra, New York Philharmonic Orchestra, Boston Symphony Orchestra,
Chicago Symphony Orchestra, Toronto Symphony Orchestra
and the symphony orchestras of Baltimore, Los Angeles, and Montreal.
read more
here
*
*
*
*
The New Year Concert of the Vienna Philharmonic
each year in the morning of January 1 in Vienna, Austria.
As far as I can think back -
each New Year's Day I've listen to this concer

t
which gives me such a wonderful start,
"waltzing" into the new year!
see also my post from 2011
here
****
***
*
I also like to

welcome
2013
w

ith

my favorite aria from
Mozart's The Magic Flute
"Dies

Bildnis ist bezaubernd schoen...."
***
**
*
*
***
It is difficult not to believe that the New year will be better than the old one!
And this illusion is not wrong.
Future is always good, no matter what happens.
It will always give us what we need and what we want in secret.
It will always bless us with right gifts.
Thus in a deeper sense our belief in the New Year cannot deceive us.
Kersti Bergroth
All my best wishes to each and every one of you
EIN FROHES UND GESUNDES NEUES JAHR!
all info for the New Year Concert, Vienna: