.....and their colorful 'Metamorphosis'
in May...
*
*
...mop-heads and lace-caps...
...in June..
*
...and July...
*
...and August...
*
From white....
*
....to pale green...
*
And now - in September....
...a daily/weekly change of colors....
Hydrangea flowers come from the genus hydrangeaceae,
which has between 70 to 75 species in its family.
The name "hydrangea" originates from the Greek word-meanings water vessel.
Native to southern and eastern Asia (from Japan to China, the Himalaya and Indonesia)
It is said that in the 18th century, the 1780's,
Hydrangeas were brought to England
and then they quickly became very popular throughout Europe.
In fact, many of today's popular hybrids were originally propagated in France.
Hydrangeas grow in early spring and continue to blossom well into late fall.
They are generally white in color;
however, depending upon the soil in which they are raised,
they may be blue, red, pink, or light or dark purple.
*
*
According to folklore,
if a witch put a curse on an unlucky man or woman
the Hydrangea was often used to break the curse.
*
*
**
Hydrangeas can also symbolize gratitude and a heartfelt emotion.
*
*
*
*
In October (last year)...
from early October...
...to late October...
*
October 2 years ago....
*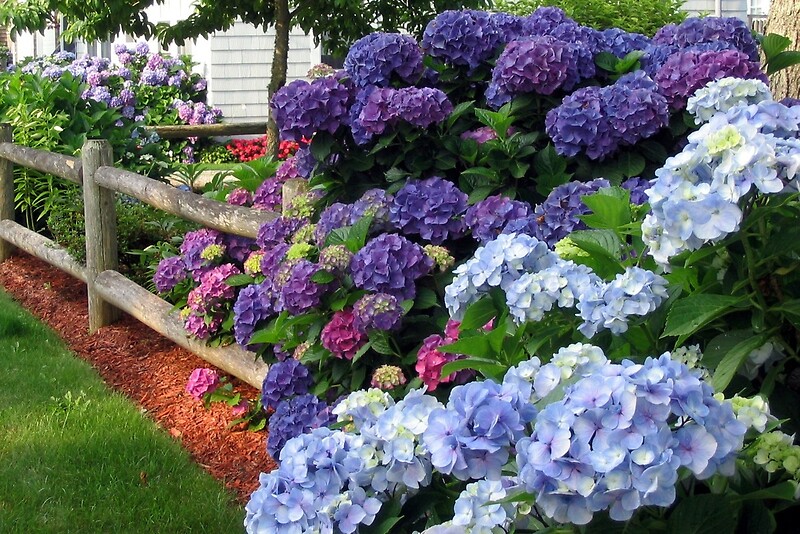 Blaue Hortensie
Rainer Maria Rilke, July 1906, Paris
So wie das letzte Grün in Farbentiegeln
sind diese Blätter, trocken, stumpf und rau,
hinter den Blütendolden, die ein Blau
nicht auf sich tragen, nur von ferne spiegeln.
Sie spiegeln es verweint und ungenau,
als wollten sie es wiederum verlieren,
und wie in alten blauen Briefpapieren
ist Gelb in ihnen, Violett und Grau;
Verwaschenes wie an einer Kinderschürze,
Nichtmehrgetragenes, dem nichts mehr geschieht:
wie fühlt man eines kleinen Lebens Kürze.
Doch plötzlich scheint das Blau sich zu verneuen
in einer von den Dolden, und man sieht
ein rührend Blaues sich vor Grünem freuen.
Fleurs dans Blue - Hydrangeas
painting by artist Nancy Medina
*
Blue Hydrangea
Rainer Maria Rilke
Just like the last green in a colour pot
So are these leaves, withered and wrecked
Behind the flower umbels, which reflect
A hue of blue only, more they do not.
Reflections are tear-stained, inaccurate,
As if they were about to cease,
And like old blue notepaper sheets
They wear some yellow, grey and violet,
Washed-out like on a children's apron,
Outworn and now no more in use:
We contemplate a small life's short duration.
But suddenly some new blue seemingly is seen
In just one umbel, and we muse
Over a moving blue delighting in the green.
Translation © by Guntram Deichsel, 2003-12-03
Photo source: internet
*
Original Oil Painting by M Baldwin, c2006.